In Paperback - Abigail's Journey
by Judith Bronte



Abigail Johannes wasn't interested in romance.
Jake Murphy couldn't stand physical contact.
They were perfect for each other.

ew beginnings aren't easy, but no one knows that better than Jake Murphy. When he rents the Johanneses' empty yellow house in Three Mile Bay, he struggles to overcome a painful past and begin a new life outside the prison walls he had known for so long.

Abigail Johanneses' future is secure-- or so she had thought. With the prospect of marriage to a childhood friend and the opportunity to attend college, her life seems already determined. Then the new neighbor arrives, and Abby finds she must learn compassion. As she befriends Jake, she wonders where her future really lies.

$19.95

[paperback temporarily unavailable]

What others are saying about Abigail's Journey!

Paperback details:

6 x 9 inch paperback (15.24 x 22.86 cm)
692 pages
1 1/2 inches thick (3.81 cm)
International shipping is available.
---
Free desktop wallpaper based on the cover art of "Abigail's Journey"!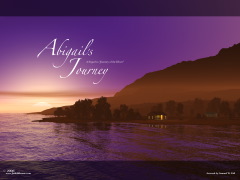 The beautiful artwork for the cover of Abigail's Journey was done by my brother, Samuel Fall. (Thanks, Sam!) Based on his cover art, this scenic image of the little yellow house nestled in Three Mile Bay, can be framed on your desktop! Just choose the screen size that closest fits your computer screen, and follow the procedure that you would normally use to change your desktop picture!
---

A few questions answered about "Abigail's Journey" in paperback:

Q: Can you help me with my order?

A: Lulu.com handles everything. I do not take or process orders, so it's best to contact their personal service with any questions you may have regarding your purchase. I have used Lulu.com to buy my own copies of Abigail's Journey, and have found them to be first-rate in their service. Please check your Lulu.com cart after clicking the "Add to cart" button, and make sure that the quantity is set to 1 (unless you intend to purchase more than one copy). If you receive damaged, defective, or incorrectly packaged items, they will be happy to provide a replacement copy.


Q: Could you give me a direct link to Lulu.com's shipping page?

A: You can learn about Lulu.com's shipping options by clicking here.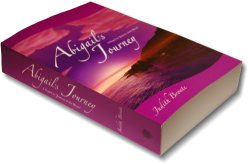 Q: Can I find Abigail's Journey in my bookstore?

A: No. For now, the paperback is only available through the Internet.


Q: Could you sign my copy of Abigail's Journey?

A: Sorry, since I don't come into personal contact with the books, I am unable to sign them. Thanks for the thought, though.