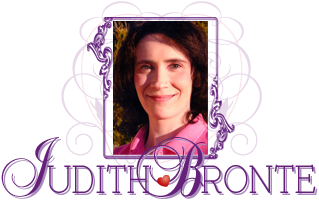 Back to Romantic Love Stories Homepage
Romantic Fiction
/
Read it for free online!

...continued from previous page

Be among the first to know
when I post new chapters, to new books!
Click Here

Keep up-to-date
on all the announcements and website news!
Subscribe today!
My policy is to follow the Golden Rule (Matthew 7:12); I hate spam too, and will never sell or give away your email address.
Jake had never gotten over the fact that God had placed him into such a caring group of people that called themselves his family. This Thanksgiving was driving that point home to the ex-convict more poignantly than ever. When Abby and John joined them in the kitchen, a warm feeling came over Jake-- and it wasn't coming from the oven. Awed at what God had given him, Jake quietly slipped away to the nursery to be alone.
It wasn't very long before Abby came looking for him.
"Uncle Terry's about to take the turkey out of the oven," she announced from the doorway of her old room. Abby's smile quickly vanished, however, when she saw the tear streaked face that Jake was trying to hide from her. "What's wrong?" she asked, coming to him in concern.
"Nothing," he sniffed.
"Then," reasoned Abby, "why are you crying?"
"It's because I'm happy," he smiled at her through his tears.
"Oh, Jake," she sighed tenderly, "I love you so much."
Weeping more than ever, Jake unexpectedly put his arms around Abby and embraced her. Stunned, Abby shut her eyes and relished the moment. She could feel every beat of his heart, and every fiber in his being as he tried to hold on to her. A flood of contentment swept over Abby; she felt safe and loved in his arms, so that every care seemed to melt away. But, as Jake's arms drew even tighter about her, Abby's senses quickly returned.
"You're hurting yourself," she observed, realizing that he was forcing himself into this physical contact.
As much as Jake had wanted to hug her, the pain and discomfort on his face was obvious.
"Jake," she insisted, "let me go."
Quickly withdrawing his embrace, Jake looked as though he had just run a marathon of endurance.
"I hope you don't need a Xantol," sighed Abby. "If you do, there goes your Thanksgiving turkey."
"I don't need any turkey to be grateful," groaned Jake, sitting down on the carpeted floor of the nursery, waiting for his chest and emotions to calm down. He could feel the threat of a flashback looming over him, and Jake knew how easily it could overtake his senses.
Just then, they both heard Mr. Winkler's voice, coming from the living room.
"The guests are arriving," said Abby, closing the nursery door and kneeling down on the floor beside her husband.
"Don't come too close to me," he requested. "It's starting to back off, and I don't want to make it worse."
Abby wasn't sure if he was referring to the pain in his chest, or a possible flashback. At any rate, she did as she was told.
After a few minutes of calm, Jake was looking more like his old self.
"That was close," he muttered, carefully getting to his feet.
"Are you sure you're all right?" she asked, standing up and looking Jake over. "Do you need a painkiller? Maybe you should lay down."
"No, it's over," he assured her, taking the sleeve of his shirt and drying his face. "I'm okay now."
"I don't think that hug was such a good idea," regretted Abby, as they prepared to open the nursery door and meet their guests in the living room.
"Let
me
be the one to decide that," insisted Jake, still shaking a little from his latest experience. "Don't overprotect me, Abby."
"Just be careful," she begged him.
"I love you, too," said Jake, with a boyish grin.
continued on next page...