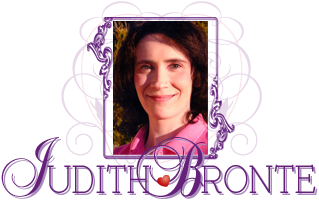 Back to Romantic Love Stories Homepage
Romantic Fiction
/
Read it for free online!

...continued from previous page

Be among the first to know
when I post new chapters, to new books!
Click Here

Keep up-to-date
on all the announcements and website news!
Subscribe today!
My policy is to follow the Golden Rule (Matthew 7:12); I hate spam too, and will never sell or give away your email address.
Emma watched as Josiah took a sip. She wasn't surprised when he frowned.
"We're out of venison, so I fixed buffalo for breakfast," she explained.
"It's good broth," muttered Josiah, tossing back his blanket. "You still aiming to be friendly, Emma?" He slanted her a sideways glance.
"I said I would," she reminded him, "when I'm not being tussled."
"I were just checking," he grinned. "You're like a wooden doll when yer in my arms. How about a smile to let me know we're still friends?"
Emma smiled, and Josiah thought he saw her blush a little as well.
Sipping down the last of his broth, Josiah handed the cup back to Emma. "I'll fetch you after I tend the horses. If you don't have nothing heavier than that dress to keep warm, use my blanket capote [pronounced cup-oat']. It's in the large leather bag in the corner." Josiah stood up, and then looked back at Emma. "You didn't whimper last night."
"You were tender," she smiled gratefully.
Picking up his Hawken, Josiah checked its priming, and then stepped outside.
Now that Josiah was up, Emma straightened the buffalo robes and smoothed out their blankets. She washed the tin cup, tidying the mess she had made preparing breakfast.
Then Emma went to locate Josiah's capote-- a coat made from a blanket-- in his large bag, for her woolen dress was not adequate to keep out the cold. Easily finding the hooded capote, Emma put it on just as Josiah walked through the door.
Grinning, he looked her over. "I ain't sure if you're wearing that capote, or that capote is wearing you!" he chuckled.
"You're a very large man," she observed, noticing how his capote came down to her ankles. The long sleeves went well beyond her hands, and the broad shoulders hung heavy on her frame.
Though Emma was not a small woman, she felt like one beside Josiah. The top of her head only came to his shoulder, and when he stood near, Emma was constantly looking up when he spoke.
"This'll keep you warm," Josiah grinned, tying the capote's sash about her waist to keep the garment closed. He pulled the hood over her head and laughed when it hid much of her face.
"Should I take Pa's shotgun?" wondered Emma.
"What fer?" he asked. "You can't find yer hands in those sleeves to hold a weapon. Besides, I got my Hawken."
Josiah swung open the log door, and Emma followed him outside into the icy air. It had snowed a little the night before, only adding to the white layer that already covered much of the ground.
Heading up the mountain, Josiah led the way while Emma kept behind him. The hood continually fell over her eyes, and Emma found herself constantly pushing it back to see where she was going.
continued on next page...