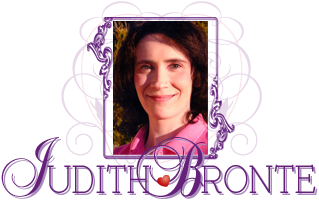 Back to Romantic Love Stories Homepage
Romantic Fiction
/
Read it for free online!

...continued from previous page

Be among the first to know
when I post new chapters, to new books!
Click Here

Keep up-to-date
on all the announcements and website news!
Subscribe today!
My policy is to follow the Golden Rule (Matthew 7:12); I hate spam too, and will never sell or give away your email address.
Keeping still so Josiah wouldn't know she was awake, Emma's heart burned within her. She yearned to go to him and tell him she would turn a blind eye to his future indiscretions, if only they could have some of the tenderness they shared before. It wasn't easy for Emma to take the stand she had with Josiah, and she longed for him with every fiber in her being.
The musky scent of leather and dried sweat greeted Emma's nose, and she could feel Josiah's presence as he again sat beside her bed. Even though her eyes were tightly closed, Emma could feel his gaze as he examined her to see if she were awake.
Emma hoped Josiah would leave her alone. She was tired, and temptation was taking advantage of her weakened state.
"Emma?" Josiah's hushed voice cut through the silence, and Emma could feel his breath on her face. "You awake, Emma?"
Emma lay completely still.
"I need to speak with you, Emma."
Emma didn't move.
"I know yer awake, Emma. You ain't breathing like yer sleeping."
A small groan escaped Emma's lips and she reluctantly opened her eyes. Long locks of Josiah's hair tickled her neck, and Emma pushed them back with a gulp in her throat. There was that eagle feather, taunting her with something she was beginning to think would never happen. Josiah would never be hers, and the thought forced another tear from Emma's already low reservoir.
"You still crying?" he asked.
Emma dried her cheek. "Please, Josiah, leave me alone. I'm not coming to bed with you."
"I ain't expecting you to."
"Then why are you here?"
"I hafta tell you something important."
Waiting for Josiah to speak, Emma hoped she could keep silent. She didn't want to give herself the chance to weaken.
Josiah straightened, and Emma heard him sigh. "Reckon I don't blame you any for not wanting to listen-- not after what I done. It was selfish of me to bed that woman without giving any thought to you or God, and I'm sorry, Emma. From now on, I'll be faithful to you. I might have to lash myself to a tree to do it, but I'll do whatever it takes to keep my promise."
Stunned, Emma looked up at him in wonderment. She saw the tear stains on his cheeks, and realized he had been crying.
continued on next page...