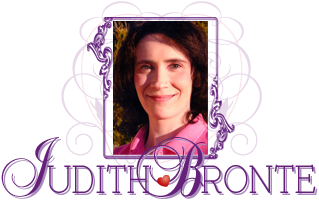 Back to Romantic Love Stories Homepage
Romantic Fiction
/
Read it for free online!


Be among the first to know
when I post new chapters, to new books!
Click Here

Keep up-to-date
on all the announcements and website news!
Subscribe today!
My policy is to follow the Golden Rule (Matthew 7:12); I hate spam too, and will never sell or give away your email address.

y name is Sarah Fall, and I've been writing romantic fiction under the pen name of Judith Bronte since 1998. I started publishing monthly chapter installments in 2001, and ended the monthly installments in 2014, in favor of only posting chapters after I've completed a novel. With God's grace, I never missed a posting deadline. I now write and finish all my stories offline, and then post them a chapter a month, while offering the full novel at Amazon.

Among others, my literary heros are Charlotte Bronte and Jane Austen. In my opinion, Jane Eyre has some of the best lines ever written between a man and a woman; the interaction between Mr. Rochester and Jane is pure gold, it just doesn't get any better than that. Every time I pick up a novel by Jane Austen, it's like revisiting a dearly beloved friend; she was endlessly talented, insightful, and always entertaining. Even though I've been transitioning to an electronic library, my old volumes of Bronte and Austen will forever remain on my bookshelf as longstanding friends.

I live with my Dad and two brothers in Southern California (USA), and have worked as a website designer and graphic artist before transitioning into a full-time inspirational romance writer. I'm in my forties, and have never been married. The model I use time and again of a healthy marriage, came from observing my parents' strong relationship. Even though my mother has since passed away, their example of marital unity and close friendship are elements that continually slip into my stories in one form or another. From Dad, I got my oddball sense of humor; from Mom, my sense of the romantic; together, they gave a foundation for this writer to create love stories.

Though I was born in South Carolina, I've spent most of my life in Southern California. I'm a Christian, and my family and I attend the Desert Cities Church of Christ in Palm Desert, California. Check out our church's live broadcast of our 4pm Sunday service-- you might see me! Homeschooled throughout most of my childhood, I developed a love for the written word through my father. As a child, I remember watching him endlessly read. After that wonderful world was opened to me, authors such as Laura Ingalls Wilder and L. M. Montgomery would keep me turning pages until my eyes blurred from fatigue and Mom would tell me I simply had to go to bed. Hard to do, when Gilbert Blythe called poor Anne "Carrots," and she just smashed a slate over the boy's head. "Oh, Mom, just a few more pages?"

I have a very active imagination, and writing is a way for me to wrestle all that creative energy into something productive. I started writing love stories in 1998, and with my mom's coaxing, I brought my meager offering to the Internet. Over a million words later, the stories are still building a global readership, the website is still growing, and the writing is still pushing my imagination on a consistant basis. I love to write. I love to tell a story, and I appreciate my readers. I often have people I've never heard from before, say they've been reading me for years. That's the power of storytelling.

When I write, it's just me, God, and the characters. But after that story has been published on the website, it changes to include one more. You, the reader. You complete the circle of friends.



The following was taken from my announcement list, and shows a little of my approach to writing (I've taken out any plot spoilers):

Homegrown Dandelions: Behind the Scenes of Chapter 15 (January 28, 2010):
Before I started my first romance back in 1998, I remember some of my preconceptions of what I thought it took to write fiction. In my mind's eye, I saw a bookish woman with a pencil tucked behind one ear, eagerly slamming her fingers into a keyboard and simply letting the words come; she pulled the words from thin air, effortless and mysterious in her execution. Why? Because she was a writer. She needed no idea whatsoever of what she was doing, the plot structure or even the vaguest notion of where she was going. She just did it-- and all without one iota of research or preparation. After several days of insomnia and self-starvation, ignoring the world and everything in it but her laptop, she looks dramatically feverish and happy. Why? Because she has a finished novel, complete and without flaw.

Gratefully, my understanding has changed since then. In my growing and changing, I've come to realize how naive I was when I first started. While I still have much to learn, some of my preconceptions have been forever shot down for the absurdity that they were. I learned through experience, and from the experience of others, that things rarely, if ever, come to you without preparation of some kind. Lessons I learned included the realization that researching the subject I'm writing about isn't somehow taking a shortcut, and that I am still a writer even if I need time to work through the story first in my mind. I learned that fiction writers are first and foremost storytellers, not some souped-up wordsmiths who never tap out a wrong keystroke. I learned, and am still learning, that I will never stop learning. If I do, I might as well stop writing, for growth is an essential part of a writer's life. And that's me. Ever imperfect in my knowledge of this wonderful craft, and everything I have yet to learn. But oh so very grateful that even when it comes the hard way, I am still learning.

I've heard other writers say they don't write because they can, but because they must. Maybe it's genetic, I have no idea. I only know that storytelling isn't something I have to force myself to do. While it definitely is work, this is me. It is who I am, who every writer is when they pour their heart into their fiction, and keep putting one foot in front of the other, even when they don't necessarily feel creative. Writers write. It's what we do.

That said, I look forward to many more years of writing for Journey of the Heart [the website's name has since changed to JudithBronte.com]...

Until next time, thanks for reading.

- Sarah Fall (a.k.a. Judith Bronte)


If you have a question you'd like to ask, check out my FAQ and see if I don't cover it somewhere. If you don't find your answer, swing by my feedback page and drop me a note. If your question is really good, I'll consider adding it to the FAQ.

A brand new reader? I'd suggest starting with Homegrown Dandelions to get a good idea of what I'm currently turning out.

Here's what others are saying about the story...