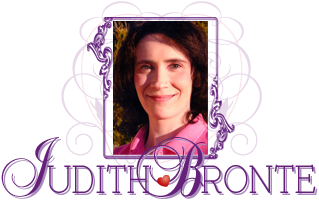 Back to Romantic Love Stories Homepage
Romantic Fiction
/
Read it for free online!

...continued from previous page

Be among the first to know
when I post new chapters, to new books!
Click Here

Keep up-to-date
on all the announcements and website news!
Subscribe today!
My policy is to follow the Golden Rule (Matthew 7:12); I hate spam too, and will never sell or give away your email address.
The comparison was an unflattering one, and it was all Emma could do to keep from crying. She folded their blanket in silence, while Josiah checked his rifle.
"You won't kiss, and you won't tussle," he grumbled. "Fer someone's who's afraid of being left out here by yourself, you sure haven't been very obliging!" He got to his feet so Emma could roll up the buffalo robe. "How's yer leg feeling? Did I hurt the wound any?"
Gulping back a sob, Emma shook her head "no."
"Would have served you right if I had," murmured Josiah. Still grumbling, he went to see to the horses.
The hungry animals nickered and tossed their heads, impatient to stretch their legs and hopefully graze in the meadow, for they could smell the grass from here.
"Easy, easy," Josiah calmed his ponies. "If them Blackfoot are gone, you'll have the valley to yourselves."
The last of the bedding packed away, Emma prayed there would be a breakfast. She was so hungry, that even the grass Josiah had promised the horses sounded good.
After saddling his pony, Josiah lifted Emma into the saddle and then swung up behind her. "I want to scout ahead, and see where the Blackfoot and buffalo are at," he explained, leading their horse away from camp. Josiah put an arm about Emma's small waist, and turned his face to the horizon. There wasn't a buffalo in sight. "I'm thinking them Blackfoot ran the herd North."
A cold wind blew down into the valley as they rode, and Josiah kept a guarded watch for Blackfoot or buffalo. His Hawken rifle was ready for trouble, but all they found were a few prowling wolves and some rabbits.
The hard saddle worsened Emma's soreness, and she almost wished Josiah had left her at the camp. However, it only took one look at the wolves, to remind her that she was grateful for the arm about her waist.
The valley floor swelled in front of them, like one solid wave of earth. Josiah grinned triumphantly when they reached the top and beheld the view this vantage presented. A moving sea of black followed the contours of the valley, as buffalo grazed and wallowed in the bare patches of dry dirt.
"There they are," Josiah breathed contentedly. "And not a Blackfoot in sight! That means I can use my rifle, and we can have a hot breakfast!"
Since Emma was seated in front of Josiah on the horse, he couldn't see the smile that adorned her pretty face.
Halfway back to camp, Josiah suddenly spotted an elk. Promptly firing his Hawken, the animal collapsed in a heap of antlers and brown fur. With a war whoop that stung Emma's ears, Josiah dropped from his saddle and proceeded to reload his rifle.
"Dismount!" he shouted to Emma over his shoulder. The mountain man pulled out his Bowie knife and expertly carved away the choicest parts of the fresh meat for their food.
After arriving at camp, Emma gathered firewood while Josiah hobbled the horses in a meadow so they could graze to their hearts' content without straying too far.
The elk smelled delicious as the aroma of cooking meat wafted past Emma's nose. When it was sufficiently cooked, Josiah cut off a rather large portion of it for Emma.
continued on next page...