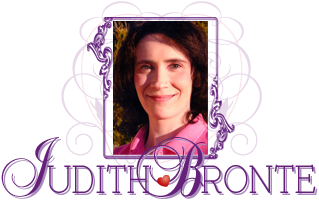 Back to Romantic Love Stories Homepage
Romantic Fiction
/
Read it for free online!

...continued from previous page

Be among the first to know
when I post new chapters, to new books!
Click Here

Keep up-to-date
on all the announcements and website news!
Subscribe today!
My policy is to follow the Golden Rule (Matthew 7:12); I hate spam too, and will never sell or give away your email address.
The young woman opened the box to find an elaborate layette, complete with yellow baby sleepers, and tiny baby booties. Everything had been carefully packed into a large diaper bag by Izumi, and contained all the immediate necessities that Abby would need when the baby was born. Abby went to her mother and hugged her gratefully, while Jake picked up one of the small garments and curiously looked it over.
"It's so tiny," he observed.
At this, everyone in the room laughed.
"They don't stay that tiny for very long," chuckled Sheriff Peterson. "Right, John?"
When Abby returned, John's present was next.
"This is for both of you," said John, handing her an envelope. Inside, was a picture of a fireplace. "I've always intended to put a fireplace in that house, but I never got around to it. We have some pretty long winters around here, and they can be especially cold when you're sleeping alone."
"You can say that again!" exclaimed Terry. "At least John had Izzy! I was stuck on the living room couch to fend for myself!"
"I don't want that grandchild of mine to freeze this winter," said John, kissing Abby's cheek.
"Thanks, Dad," smiled Abby, showing Jake the picture of the fireplace.
"This is from me," grinned Terry, putting a box into Jake's hands. "It's for the father of the baby."
Surprised, Jake unwrapped the gift. Layered under all the wrapping paper and tape, he found a box with pictures of a camera all over it.
"It's a seven megapixel digital camera," explained Terry. "I was thinking you could use it for your artwork, and then turn it on the baby when it's born. You don't have to open it now," he added, remembering how Jake had reacted to the sight of a camera, the last time. "I'll show you how to work it, later."
Jake smiled politely and put the box aside. Dr. Gregory's gift was a plastic toy aquarium that played a lullaby when you wound it up; it came attached to a crib that was wheeled into the living room, already assembled. Sheriff Peterson and his wife gave the couple a stroller, while Dick and Sara surprised the expectant parents with handmade baby blankets that Sara herself had expertly embroidered with tiny forget-me-nots and baby's breath. Some of the younger members of Abby's fishing buddies had chipped in together and bought a car seat with brightly colored fish printed all over it. Dr. Jacoby's present was a baby lamp with a rotating lampshade that cast constellations on the walls and ceilings of the room it was in. Mr. Winkler hadn't known what to give, so Abby and Jake received a generous check from the elderly gentleman. Dennis' gift was a high chair, for he had checked with Terry, and that was the only thing no one else had promised yet.
When all the thank yous were made, the presents were piled into and around Dr. Gregory's baby crib. Soon after, the ladies got up and served lunch. As the party began to wind down, the talk inevitably turned to the commission that was to take place the very next day.
"I realize this may not be the best time to speak," began Sheriff Peterson, "but the hearing is tomorrow. I apologize to the Johanneses, however, as I told them last night, I can't just stand by and watch Dick pressure Jake into a dangerous situation."
At this, Dick became defensive.
"Do you think I want to see that young man get hurt?" he cried.
"Jake wouldn't be doing this, unless he felt he owed it to you," replied Sheriff Peterson, evenly. "Dr. Jacoby shares my opinion."
"I have done
nothing
to pressure Jake into testifying!" exclaimed Dick, rubbing his balding head with his left hand in agitation.
continued on next page...