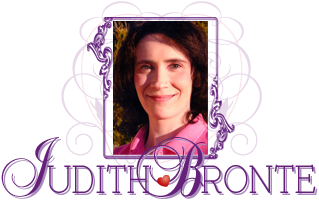 Back to Romantic Love Stories Homepage
Romantic Fiction
/
Read it for free online!

...continued from previous page

Be among the first to know
when I post new chapters, to new books!
Click Here

Keep up-to-date
on all the announcements and website news!
Subscribe today!
My policy is to follow the Golden Rule (Matthew 7:12); I hate spam too, and will never sell or give away your email address.
"Look at Abby," observed John. "She's the picture of someone in control. What did you used to call her when she was little?"
"Little Miss Confident," laughed Terry. "I guess some things never change."
"I wish this church had been one of those things," mused John, getting up, for Izumi had motioned to him.
"We're done with the paperwork," announced his wife.
"Then," said John, "I'll go get the justice of the peace."
The man came out and placed Jake and Abby in front of him, with Dick as best man, and Izumi as the matron of honor. Terry sneaked in several pictures with his cell phone, while the man began the ceremony. To Izumi's disappointment, it wasn't the same vows that she and John had taken, nineteen years earlier. The vows made no mention of "love, honor, or obey," but instead made some weak reference to "mutual happiness."
After they exchanged rings, Jake and Abby were pronounced man and wife.
"You may now kiss the bride," the man announced.
"That's okay," Abby whispered to Jake. "Just shake my hand, and that will be enough."
Jake quickly shook her hand, and the deed was done. Terry snapped another picture, and the family walked home. As they neared the Johanneses' house, Jake stopped.
"Abby?" he asked. "Would you come with me for some ice cream?"
"Right now?" asked Abby, in surprise.
"
Please?
" he implored.
"Let me change first," she conceded, now realizing that he simply wanted to be with her.
When she reappeared, she found Jake waiting for her by the picnic table, while the other members of the wedding party silently watched on.
"You guys don't have to wait up for me," smiled Abby. "I'll be home before long."
"Take as long as you want, Mrs. Murphy," smiled John, a little incredulously. "You're a married woman, now."
When Abby returned late that night, she found Izumi waiting for her in the living room.
"I thought those days were over," remarked Abby, sitting down on the couch beside her mother.
"I don't suppose he..." Izumi left the sentence unfinished.
"No, Mom," smiled Abby, "he didn't. Should I expect to have that question, a lot?"
"We're you're family, Sweetheart," said Izumi. "We're not trying to pry. You don't have to answer the question, in the future, if you don't want to. Did you and Jake get your ice cream?"
"Uh-huh," said Abby, relaxing back into the soft couch.
"I'm sorry it wasn't a better day for you, Abby," sighed Izumi, getting up, and covering her daughter with the comforter.
"Mom?" called Abby, as the mother was about to leave. "This
was
a good day."
Izumi smiled gratefully and climbed into bed beside John, while Abby spent her wedding night on the family's living room couch, dreaming of smallmouth bass and the delicate gold band on her left hand.

"And [Jake] said, Blessed be the LORD God... Who hath not left [me] destitute... of His mercy and His truth: I being in the way, the LORD led me to the house of my master's brethren."
~ Genesis 24:27 ~
end of chapter