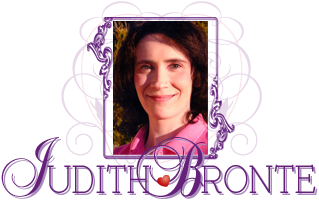 Back to Romantic Love Stories Homepage
Romantic Fiction
/
Read it for free online!

...continued from previous page

Be among the first to know
when I post new chapters, to new books!
Click Here

Keep up-to-date
on all the announcements and website news!
Subscribe today!
My policy is to follow the Golden Rule (Matthew 7:12); I hate spam too, and will never sell or give away your email address.
"What do you think the Crow women are wearing?" prodded Josiah.
"I'm sure they dress in the best way they know how," reasoned Emma, "and that's fine for them. But I'm not an Indian, and I have my own views on what's decent."
"Take off them petticoats, Emma."
"Absolutely not."
Josiah folded his arms. "Emma, don't try my patience."
Feeling the full effects of Josiah's intimidation, Emma swallowed hard. She had no choice but obey, and ducked beneath a blanket to take off her undergarments. Pulling her arms through the openings of the dress, Emma smoothed down the deerskins as though she were wearing her woolen gown.
When Emma emerged from under the blanket, Josiah grinned in ready approval.
"It's soft," she had to admit, touching the long one-piece dress and then running her hand over the beaded decorations. "It feels good against my skin."
Josiah stepped close, drawing Emma into his arms. "This is more like it," he grinned, letting his arms wrap around her waist. "I like my women soft."
Hearing this, Emma struggled to pull away from Josiah. "Why do you have to say those awful things?"
"It's the truth," he shrugged, unwilling to let her go just yet.
"Please," begged Emma.
Groaning, Josiah relinquished his hold on his wife. "That dress will keep you good and warm this winter. Put on the leggings and moccasins, or yer feet will git mighty cold on this dirt floor."
Quietly, Emma pulled on the short leather leggings and then slipped her feet into the moccasins. She was covered from the neck down in animal skins, but she still felt immodest.
"Couldn't I at least put on my corset?" she pleaded. "I feel undressed without it!"
"Stop talking like a white woman," Josiah chided. "I'm leaving to check my traps afore the storm gits bad." Picking up his Hawken, Josiah left the cabin to Emma.
Emma was unused to wearing so little, and yet she knew that if she resembled anything like the Crow women, she was perfectly modest. A lifetime of convention was difficult to overcome, so Emma satisfied her modesty by draping a blanket about her shoulders, and then retreated back to the fireplace to read her Bible.
The weathered Bible was old, and looked as though it had been neglected for quite some time. The pages were mildewed and water damaged, and some small animal had nibbled at one of the corners before moving on to something more edible. Still, the words were readable, and just the feel of a Bible in her hands made Emma smile. Here in these cold mountains, the printed words on the tattered pages gave sunshine to Emma's soul.
"'For whatsoever things were written aforetime were written for our learning,'" Emma read in a hushed whisper, "'that we through patience and comfort of the scriptures might have hope.'" Hope. Emma's lips parted in a pained smile. That word meant a lot to her now-- more than it ever had in her entire life.
continued on next page...