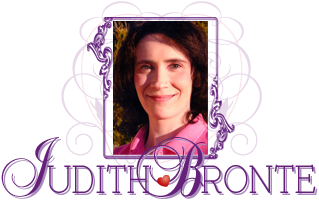 Back to Romantic Love Stories Homepage
Romantic Fiction
/
Read it for free online!

...continued from previous page

Be among the first to know
when I post new chapters, to new books!
Click Here

Keep up-to-date
on all the announcements and website news!
Subscribe today!
My policy is to follow the Golden Rule (Matthew 7:12); I hate spam too, and will never sell or give away your email address.
"It's not that I begrudge her some religion, but I don't enjoy feeling like a heathen every night in my own lodge." When Emma didn't respond, Josiah lifted his head just enough to see Emma's face. "You crying again?"
Unable to speak without openly weeping, Emma buried her face against his hunting shirt.
Josiah rubbed her back consolingly. "I love you, Emma."
"I love you, too," Emma said in a muffled voice.
"Then how about a kiss before we sleep? Mary got one."
Planting a warm kiss on Josiah's cheek, Emma snuggled deep into his arms. "I'll ask Mary to lower her voice when she prays out loud."
Josiah squeezed Emma, and the cabin lay still as the small family went to sleep.
Morning came, and Emma awoke to a gentle kiss. Her eyes flickered open, and Josiah grinned down at her.
"You feeling better today?" he asked.
"I don't know yet," Emma moved slightly, trying to see how her back felt. It wasn't as sore, but even now, Emma could already sense an edge to her emotions that she didn't like. She had been fighting it the day before, and this morning, it was still present.
Josiah stroked Emma's cheek.
Annoyed, Emma sighed patiently. "Please, I'm not in the mood."
"All I want is a little sunshine," he said grinning.
"Josiah, I don't feel like playing with you right now."
"Where's my sunshine?" he asked. He reached under Emma's arm, and she gasped involuntarily.
"Josiah! Stop it!"
"Not until you give me some sunshine," his voice was playful but insistent. Josiah stared at Emma, as though willing her mouth into a smile.
"I don't feel like sunshine, Josiah."
"You may not feel it, but you certainly look it," he said matter-of-factly. He stroked the blonde braids that Emma would pin up once she readied herself for the day. "It's like yer wearing sunlight, Emma."
Emma looked at him evenly. "I know you're trying to flatter me, but I'm really not in the mood."
Instead of leaving her alone, Josiah gathered Emma in his arms and quietly snuggled with her. Emma would have protested, but his calmness felt good against her tattered nerves. When Emma sighed contentedly, she heard Josiah grin.
continued on next page...