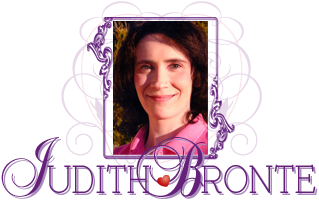 Back to Romantic Love Stories Homepage
Romantic Fiction
/
Read it for free online!

...continued from previous page

Be among the first to know
when I post new chapters, to new books!
Click Here

Keep up-to-date
on all the announcements and website news!
Subscribe today!
My policy is to follow the Golden Rule (Matthew 7:12); I hate spam too, and will never sell or give away your email address.
"He doesn't need to be here for the second half of this hearing, does he?" asked Abby to the former warden.
"No," answered Dick, "Jake can go home now."
With a deep sigh of relief, Jake followed Abby out into the hall, while John and Terry lingered behind a few minutes to talk to Sheriff Peterson. As they waited for the two men, Abby recognized the stranger she had met in the hall, earlier that day. To her utter surprise, he approached Jake.
"Jake!" grinned the stranger. "For a minute there, I thought I had missed you!"
All at once, Jake's demeanor changed. He nervously glanced around the hall and then back at the stranger.
"What do you want?" he asked, gruffly.
"Now is that any way to talk to your favorite uncle?" grinned Mr. Murphy. "How have you been, boy? Long time, no see!"
"How did you find me?" demanded Jake, his hands balling into fists.
"I read your name in the paper, and came down here just as soon as I could," the uncle grinned broadly. "So, this is the little woman you got yourself hitched to, huh? She's a looker, Jake. Has he laid a finger on you yet, Missy?" he laughed loudly. "My nephew likes men, don't you boy?"
Immediately, Jake moved in front of Abby, using his body to shield her from his uncle.
"Get out of here," growled the ex-convict, in a low threatening voice. Even the tone of it made Abby shudder with dread. She had never heard Jake sound like
that
, before!
"Not until I do what I came here for," laughed Mr. Murphy. "What I got for you, is outside."
As the uncle turned to leave, Abby caught Jake by the sleeve.
"You're not going with him, are you?" she asked fearfully.
"It's all right," he assured her. "Stay here with your father. I'll be right back."
Before she could protest any further, Jake disappeared outside with his uncle.
"Who was that?" asked John, walking to where Abby stood.
"It was Jake's uncle," answered Abby, in an ominous voice. "I'm not waiting any longer. I have to see if he's okay."
"I'll go with you," said John, escorting his daughter down the hall.
Once in the parking lot, Abby saw Jake and his uncle talking beside an old pickup truck. The man shoved a large metal box into Jake's hands and then grinned.
"You got to get a little backbone into you, boy!" she heard the uncle say as she approached the men.
"
I never want to see you, again!
" shouted Jake, dropping the box and lunging at the man in rage.
"Jake!" cried Abby, almost afraid that he was going to harm his uncle. "Don't hurt him!"
Jake looked at Abby, his face flushed with anger. Seeing the fear in her eyes, Jake let the man go. With an impudent smirk, Mr. Murphy climbed into his vehicle and started the engine.
"
Don't ever come here, again!
" Jake shouted at the pickup as it pulled away. "Do you hear me? NEVER!"
Mr. Murphy gleefully honked his horn at Jake, and disappeared down the street.
continued on next page...