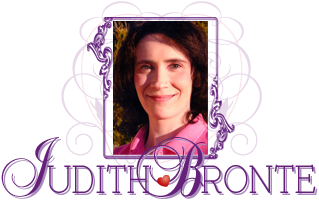 Back to Romantic Love Stories Homepage
Romantic Fiction
/
Read it for free online!

...continued from previous page

Be among the first to know
when I post new chapters, to new books!
Click Here

Keep up-to-date
on all the announcements and website news!
Subscribe today!
My policy is to follow the Golden Rule (Matthew 7:12); I hate spam too, and will never sell or give away your email address.
"I like you," she affirmed. "Heaven knows, it'd be easier if I didn't."
"No more talking," he pleaded, burying his face against her neck.
"I suppose the rest of this discussion can wait until tomorrow morning," sighed Abby. Jake needed her tonight, and for now, that was the only thing that mattered.
As Abby lay awake in bed with Jake's sleeping arms still tightly clutching her for comfort, she wondered what God might ask of them. She prayed for the courage to meet it, and for the discretion to fight Dick if his plan was as foolhardy as it had first sounded. Abby was determined to hear what the former prison warden had to say for himself!
Early the next morning, after Abby had managed to pry Jake from her without waking him up, she dressed and quietly slipped out the front door. As she climbed into the pickup truck, however, she saw Jake standing in the doorway of the little yellow house, half dressed in the day clothes he always wore to bed.
"I'm coming with you," he announced, disappearing for a moment to grab a shirt and coat.
Briskly walking from the house while pulling on his coat, Jake climbed into the passenger seat and understandingly looked at Abby.
"Do you know where I'm going?" she asked.
"I know," he sighed. "Thanks for last night, Abby."
"I haven't agreed to anything," she warned him.
"I hadn't figured you did," replied Jake with a slight smile. His hand moved across the seat and lightly touched the hem of her coat. Comforted, Jake softly exhaled and closed his eyes.
"Dick has a lot of explaining to do," muttered Abby.
Before long, their red truck pulled up to the Doyle's house in Watertown. As Jake helped Abby out of the vehicle, she saw the dread on his face.
"Abby, don't be too hard on him," requested Jake. "He loves me, too."
Unwilling to make any promises, Abby could only sigh in response.
Before Jake could ring the doorbell, the front door suddenly swung open and Dick invited them inside.
"Please, come in," said their host, showing them into the den. "Abby," he sighed, seeing her displeased face, "I can only imagine what you're thinking about me right now."
"How could you suggest this to Jake?!" she exclaimed. "How
could
you?!"
"Abby, please..." begged the young man.
"He may love you, Jake," said Abby, "but we have a baby coming! Ricky hasn't even been born yet, and this will be the second time you've risked your life for those criminals in prison! You've done enough!"
"Abby," began Dick, gently guiding the pregnant woman to a comfortable seat on the couch, "the day Jake was taken to the hospital, I promised him that I wouldn't let his sacrifice be for nothing. I have a plan, and I think it might work. This time, no matter what happens, they can't put Jake back in prison. You need to understand that. He is a free man."
Abby opened her mouth to argue, but Jake pleadingly squeezed her hand.
continued on next page...