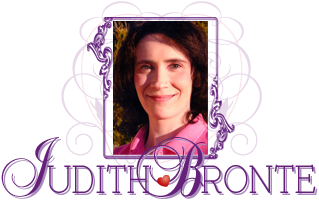 Back to Romantic Love Stories Homepage
Romantic Fiction
/
Read it for free online!

...continued from previous page

Be among the first to know
when I post new chapters, to new books!
Click Here

Keep up-to-date
on all the announcements and website news!
Subscribe today!
My policy is to follow the Golden Rule (Matthew 7:12); I hate spam too, and will never sell or give away your email address.
"Do I need anyone to protect me from
you
?" she asked Kevin seriously.
"I'm very reliable, Miss Overholt," said Kevin. "You'll be safe with me."
Charlie looked at him, and then looked to Adam.
"Say the word, and he's hired," said Adam.
"All right," said Charlie, "Grandma can move into my room with me, and he can have her bedroom. This is the one God sent us, so I'll trust in His Providence. I just want to go on record as saying, that no matter how many people I'm surrounded by,
true
safety only comes from God. There-- I've said it. Now I'll drag my soapbox back to the kitchen."
And with that, she returned to the kitchen to resume her talk with Vera.
"Looks like you're in," said Bill, congratulating Kevin.
"If it's all right with you, Mr. Clark, after I make sure that this house is secure, I want to go check out Miss Overholt's house," said Kevin.
"Sure," said Adam. "Do you know where it is?"
"Mr. Paulson [Bill], drove by the place on our way here, and pointed it out to me," answered Kevin. "With your permission, I'd like to install a few security measures around her house."
"I leave it to you," said Adam.
"One other thing," said Kevin, picking up the heavy bag he was toting, "please don't let Miss Overholt leave these premises before I return."
"You have my word," promised Adam.
After he went about Adam's home, making sure there were no glaring breeches in its security, Kevin bravely opened the front door, and made his way through the crowd.
Just then, Adam's satellite phone rang. It was Jeff.
"Sorry I wasn't there, last night," said Jeff, "but I haven't been on the night shift in ages."
"I had to get a bodyguard for Charlie," informed Adam, in an incredulous voice.
"That's probably for the best," said Jeff. "I was calling to know if you and Charlie and Maggie would like to do something tonight? You probably don't want to though, not with all the media you're inundated with right now."
"I'd love to," said Adam, "but it IS a little hard to get out of the house. Why don't you come over, tonight, and I'll invite Maggie, and the four of us could have dinner here at my place? I'm afraid it's as good as I can do."
"What time should I come?" asked Jeff, eager for any chance to see Maggie again.
Later that day...
"Are you sure you want to go out there?" asked Adam, as he and Charlie were preparing to go out and give the interview Adam had promised to the media earlier. "You don't have to, you know."
"I know," said Charlie, "but I want to refute that horrible tabloid story, myself."
Kevin had come back from the Overholt house, and was preparing his client for what was about to happen.
"I'm going to grip you by the arm," he said, grasping her upper arm in his left hand. "That way, I can stop anyone from trying to pull you into the crowd. If at any time, you feel your safety is being threatened, then tell me, and I'll get you back into the house, immediately."
"I understand," said Charlie.
continued on next page...