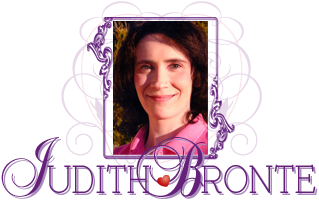 Back to Romantic Love Stories Homepage
Romantic Fiction
/
Read it for free online!

...continued from previous page

Be among the first to know
when I post new chapters, to new books!
Click Here

Keep up-to-date
on all the announcements and website news!
Subscribe today!
My policy is to follow the Golden Rule (Matthew 7:12); I hate spam too, and will never sell or give away your email address.
"Yes, Pumpkin?" responded Vera, looking up from her work. "What is it?"
"Do I look older with my hair up or down?" asked the teenager, raising and lowering her long brown hair from her shoulders.
"Up, I think," smiled the old woman.
"What about this dress? Do you think it's too dressy, or not dressy enough?" continued Charlie.
"You look fine," assured Vera, placing the lid on the tin of cookies. "I know Shirley said I didn't have to bring any food, but I hate to go empty-handed. She
is
feeding us, after all."
Charlie disappeared and soon returned holding a pair of earrings.
"What do you think of these gold hoops?" she asked.
"I think you'll look very nice," commented Vera.
"'Fine,' 'Nice,'" repeated Charlie with a groan. "But, do I look like I belong with Adam? Do I look old enough? Mrs. Garner-- I mean, Shirley still referrers to me as 'the child'! Oh! If only this day were already over with!"
"Talk like that won't make it go any faster," heeded Vera. "Just remember this: before next summer, you'll be a year older than I was, when I married your grandfather. You're not too young."
"But, was the groom twenty-nine years older than you?" asked Charlie, her voice betraying trepidation.
"If you're having any second thoughts," advised Vera, soberly, "you had better take them into consideration now, before you're married."
"I'm not having second thoughts about Adam," answered Charlie. "It's his
family
that concerns me. I wish I looked older. Then, maybe, Shirley wouldn't be so set against me."
"Pumpkin, you look like you're in your early twenties," consoled Vera, tweaking one of Charlie's loose curls over her forehead.
"Thirty would be better," sighed Charlie.
"Thirty will come soon enough," smiled Vera.
Just then, the telephone rang. When Vera went to answer it, she called Charlie to the phone.
"It's Adam," she said, handing her the receiver.
"Charlie, I'm afraid I have some bad news," began Adam, a little hesitantly.
"What?" asked Charlie, all at once becoming alarmed.
"I'm going to be late for the Thanksgiving meal," he informed her. "I have to go meet a reporter at the Palm Springs airport, and she's only staying long enough to talk to me, before she gets on another flight."
"But," argued Charlie, "you PROMISED you would be with me!"
"And I
will
be there-- just not at the start," assured Adam. "Besides, it's only my family. Shirley will let you in, even if I'm
not
there!"
"Go ahead and laugh," answered Charlie. "I can't believe you're not coming, just so you can talk to some reporter!"
"She has always been very kind to me in her articles," responded Adam, in a voice so calm it annoyed Charlie. "I owe this to her."
"If you think you owe her, more than you do me-- then go," replied Charlie, in an even voice.
"Please don't take it that way," said Adam. "This isn't a big deal. I'll be there before you know it, and we'll enjoy Thanksgiving together."
Charlie brushed her fingers through her hair, absentmindedly disturbing the French twist she had so carefully made.
"Charlie?" said Adam. "Are you still there? I love you."
continued on next page...