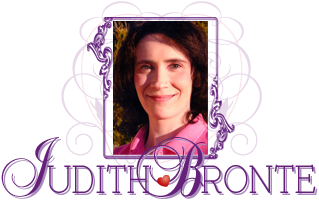 Back to Romantic Love Stories Homepage
Romantic Fiction
/
Read it for free online!

...continued from previous page

Be among the first to know
when I post new chapters, to new books!
Click Here

Keep up-to-date
on all the announcements and website news!
Subscribe today!
My policy is to follow the Golden Rule (Matthew 7:12); I hate spam too, and will never sell or give away your email address.
Emma swallowed. "I've been reading the Bible--"
"Yer keeping me awake fer the Bible?" he protested.
"And," she finished nervously, "I've decided that I can truly be your wife in all things."
Incredulous, Josiah stared at Emma as though he were still asleep and only dreaming. He knew that to Emma, there was no difference between a lover and a wife. Even in her unwillingness to return his kisses, she submitted herself to him as his spouse and didn't fight him. But to truly be his wife in all things would entail more than merely not fighting.
"Are you meaning it?" he blinked. "You ain't just going to lay there, but actually kiss and hold me?"
"God gave me to you," replied Emma, "and as your wife, it's only reasonable that I should love my husband."
Still incredulous, Josiah didn't know if he could trust Emma's announcement. It was almost too good to be true.
"I'm sorry I awoke you," she apologized. "You can go back to sleep now."
"That ain't likely!" exclaimed Josiah. He leaned forward and quickly claimed her mouth.
Instead of resisting his kiss, Emma closed her eyes, and returned Josiah's desire.
The next morning, Emma awoke to another kiss, and the two didn't leave the buffalo robes until late morning when the horses whinnied for their food.
"Don't be going nowhere," Josiah told Emma, grabbing shirt and rifle to go outside. He hurried back in record time, promptly returning to Emma's side.
"Did you miss me?" he grinned, pulling the blanket up over them both. Not waiting for an answer, Josiah kissed Emma, and the two spent the remainder of the day together on the buffalo robe.
Nearing supper, Josiah finally left their bed, requesting something to eat. He looked weary, and even a bit ill-tempered as Emma went to fix some food.
"Reckon I won't be hungering fer you, any time soon," he muttered rather gruffly.
Biting her lip, Emma handed Josiah his supper. "What's wrong?" she asked. "Did I make you angry?"
"Why did you have to go and spoil it?" Josiah lamented. "Chasing you was fun, 'an now that you've gone and given yerself to me, it takes all the frolic out of things."
"Is that all?" Emma sighed in relief. "Mr. Brown, there are more things in life than frolicking."
"Nothing ruins an affair like spending a day together like we just done," Josiah gravely shook his head.
"Are you speaking from personal experience?" she wondered a little fearfully.
"No, but I was told that tussling a woman is only good until you sicken at the sight of her. After that, it's no good."
"Well," mused Emma, "whoever said that, has a lot to learn about marital love."
continued on next page...