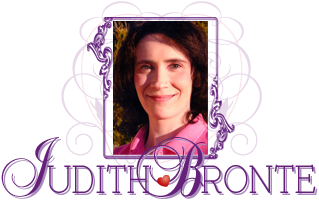 Back to Romantic Love Stories Homepage
Romantic Fiction
/
Read it for free online!

...continued from previous page

Be among the first to know
when I post new chapters, to new books!
Click Here

Keep up-to-date
on all the announcements and website news!
Subscribe today!
My policy is to follow the Golden Rule (Matthew 7:12); I hate spam too, and will never sell or give away your email address.
Groaning, Josiah slumped in his split-bottom chair. "Let's git to the food!"
"We must thank God first," Mary said seriously.
With an amused grin, Josiah regarded the little girl. "Yer getting mighty talkative."
Mary stared at him bravely. "I ain't afraid of you."
"Mary, please don't say 'ain't'!" Emma said in discouragement.
"Tell the runt to mind her tongue, Emma."
Emma looked at them pleadingly. "Let's bow our heads to say grace?"
Getting down from her makeshift chair, Mary scooted it along the dirt floor until it was beside Emma. Then, the child climbed up and bowed her head.
"Dear Heavenly Father," said Emma, "thank you for bringing us together, to celebrate the gift of Your Son. Please make us worthy of Your love. It was love that brought Jesus into this world, and it was love that sent Him to the cross to save us from our sins. Please, help us to remember this all year round. In Jesus' name, Amen."
Going to the fireplace, Emma returned with a sizable slab of bear meat, and then placed it on the table using one of their two plates. Smiling, Emma took a firebrand and began lighting the candles on the Christmas tree, one by one.
For all of his complaining about hunger, Josiah didn't dive into the meal. Instead, he sat there, staring at the little tree.
The evergreen glowed just like the stars up in the heavens, and was truly a wonderful sight to behold, especially in these wild mountains. Everyone present felt the same way, and Mary had difficulty paying attention to the food before her. Her eyes kept turning back to the Christmas tree on the table.
"In all my days, I ain't never seen anything like it," breathed Josiah. "I heard someone once talk about Christmas trees, but I thought he were just telling tales."
"It can't be lit for very long," said Emma, "for the candles aren't very tall. If we blow them out now, we'll have just enough to light it again this evening. It'll be even more beautiful, at night."
Hearing this, Josiah blew out his side of the tree, leaving Emma to do the same for hers.
Then, everyone started in on the meat before them. This was no tough jerky, but moist, fresh meat. For once in a long while, Emma filled her stomach until she was full. Most days, they only ate a portioned meal, not trying to go through their store of dried meat too quickly. But today, Emma could feel the happy satisfaction of being full.
After everyone's stomach had been satisfied, Emma fetched her Bible, and then crawled onto the buffalo robes to begin reading. Mary eagerly took her place bedside Emma, her small arms filled to capacity with her two dolls. Josiah lingered at the table, but when he saw Emma's pleading eyes, he relented, and soon joined the girls.
With little Mary on one side, and Josiah on the other, Emma began reading the story of Jesus' birth. "'And [Mary] brought forth her firstborn Son, and wrapped Him in swaddling clothes, and laid Him in a manger; because there was no room for them in the inn. And there were in the same country shepherds abiding in the field, keeping watch over their flock by night. And, lo, the angel of the Lord came upon them, and the glory of the Lord shone round about them: and they were sore afraid. And the angel said unto them, Fear not: for, behold, I bring you good tidings of great joy, which shall be to all people.
continued on next page...