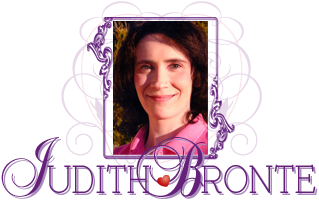 Back to Romantic Love Stories Homepage
Romantic Fiction
/
Read it for free online!

...continued from previous page

Be among the first to know
when I post new chapters, to new books!
Click Here

Keep up-to-date
on all the announcements and website news!
Subscribe today!
My policy is to follow the Golden Rule (Matthew 7:12); I hate spam too, and will never sell or give away your email address.
The filet mignon steaks were cooking nicely, as Charlie set the kitchen table. She was careful to use the good tablecloth, and the best china, for Vera had already given her permission to use them. On the table, she placed two long taper candles, lending the room a romantic atmosphere.
Next, Charlie went to her room to change clothes. She chose to wear a long, soft pink evening dress that wouldn't make her seem too dressed up, for Adam didn't know this was to be a semiformal dinner.
At six o'clock, unsuspecting Adam knocked on the Overholt door. Charlie opened the door, and showed Adam to the kitchen, where she was just taking the steaks out of the oven.
"Is that actually meat?" asked Adam, in surprise, for he knew Charlie was a vegetarian.
"It's filet mignon," announced Charlie, placing the platter on the table.
"Wow," he muttered, "what's the occasion?" It was only then that he noticed how attractively Charlie was dressed, and the lit candles, and the fact that no one else was present. "Charlie, where's Vera and Chuck?" he asked, thinking that maybe something was wrong.
"Well," replied Charlie, placing the tossed salad on the table, "Daddy ate his dinner early, and Grandma is at Georgia's helping to prepare for the wedding."
"Oh!" replied Adam, at once relieved that everything was all right. "For a minute, I thought someone was sick, or something!"
Yes, even for a man, this was naive, but Adam so wholly unexpected Charlie to act this way, that it didn't cross his mind.
When the dinner was ready, both bowed their heads while Charlie thanked God for the dinner.
"This
is
a treat!" exclaimed Adam, taking a bite of the steak, and then helping himself to the beverage Charlie had just poured into his glass. "I don't believe I've ever tasted anything like it, before," commented Adam.
"It's pomegranate wine," explained Charlie.
"I've never heard of it," said Adam, taking another swallow.
"Pomegranate wine is a tradition that was handed down from my mother's side of the family," said Charlie. "It's one of the few things I have that remind me of her."
"It's very good," replied Adam, his voice reflecting admiration.
Adam enjoyed the meal very much. He laughed and talked with Charlie, not realizing that she was preparing him for something important. When dinner was over, Adam offered to help wash the dishes. Saying she'd do them later, Charlie and Adam went to the living room, and sat down on the couch. Adam thought they were going to watch a movie, and was all prepared to rest his eyes when he noticed that Charlie's hands were trembling.
"Are you feeling all right?" he asked, suddenly becoming concerned.
"I have something very important I need to tell you," began Charlie.
"What is it?" he asked. "Is something wrong? Are you sure you're feeling all right? Maybe you shouldn't have eaten the steak. You're not used to meat, you know."
"Adam, I love you," said Charlie, her voice trembling with sincerity.
He was about to tell her that he loved her too, but there was something different in the way she had said it. He looked at her, puzzled.
"Forgive me, Charlie," said Adam, "but I don't think I understood you right. You love me as a friend-- that's what you were trying to say."
Charlie thought for a moment, trying to choose her words, carefully. She looked up into his eyes.
"I love you, like you love music," replied Charlie.
Adam was strangely still.
"You can't mean it," he said, gravely.
continued on next page...