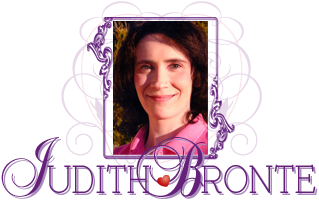 Back to Romantic Love Stories Homepage
Romantic Fiction
/
Read it for free online!

...continued from previous page

Be among the first to know
when I post new chapters, to new books!
Click Here

Keep up-to-date
on all the announcements and website news!
Subscribe today!
My policy is to follow the Golden Rule (Matthew 7:12); I hate spam too, and will never sell or give away your email address.
"For
your
sake," promised Shirley, "I'll treat her more carefully. Please understand, I
still
think you're making a terrible mistake in your choice of a wife."
"I understand," said Adam. "In time, you'll come around."
"I seriously doubt that," disagreed Shirley. "But, I'll go back and talk to her."
Shirley was as good as her word, for after conversing with Adam, she returned to the Overholt house and apologized to Charlie. She repeated her belief that the marriage was a tragic mistake, and though she didn't say it out loud, Charlie could almost hear her add, "and doomed to fail."
"If I can talk you out of it, I will," warned Shirley. "I don't believe you and Adam have thought this through. Why, when you become a middle aged woman, he'll be an old man! I should think that physical aesthetics alone, would render such a marriage impossible-- if not absurd!"
Charlie didn't know how to talk to Shirley without entering into an argument of opinion. Her own heart had told her that age would not matter-- not if she truly loved Adam. But, how could she tell Shirley this?
"Though I run the risk of sounding like a greeting card cliché," explained Charlie, "I must be candid. No one is more aware of the differences in our ages, as Adam and myself. Indeed, it took a great deal of personal revelation, to even admit to each other that our feelings went beyond mere friendship. And while love doesn't make our age gap mystically disappear, I do believe it bridges it. The Bible says that the greatest of these is love. If anything can span that distance, love can."
"I admit, there
is
an element of truth to what you say," conceded Shirley. "Love is able to overcome great obstacles, but I don't think you comprehend how great the obstacles will be. Not only is there the outstanding difference in your ages to consider, there's also the fact that my brother suffers from a great deal of notoriety. He has little privacy, (which is one reason why I was against him going public, in the first place), and such pressures would only serve to drive you apart from each other. In this, I claim to have more experience than you. As you probably have noticed, my husband is away a great deal of the time. His well publicized how-to books and seemingly never-ending conventions, have put a strain on our marriage. To further prove my point, I'm going to tell you something that only my Mom ever knew. At one point in our marriage, Thomas confessed to being unfaithful. The temptation is all the greater for those who are famous, Charlie. They are often surrounded by beautiful, adoring women, who think it's just a privilege to shake their hand, let alone to get closer to them. I would appreciate it, if you didn't repeat this to anyone."
"You have my word, Mrs. Garner," Charlie promised, somberly.
"If we're going to be sisters-in-law," sighed Shirley, "you had better start calling me my by first name."
As the breaking light of dawn signals a new day, Shirley was beginning to relate to Charlie. There was a softening in her voice that gave Charlie reason to hope that she was having second thoughts about objecting to their marriage.
"Perhaps," pointed out Shirley, "because you
are
so young and pretty, Adam won't have as great a temptation to stray. Whatever the case may be, my brother has
never
been known as a ladies' man-- thank God! Did you know, that before Mike was old enough to attract attention from the opposite sex, that it was Adam they chased after? Frequently, when I'm out in public with my brother, women come up to me and ask if he is married! He becomes chagrined whenever that happens! I think that's the reason why he's so shy of women," mused Shirley, incrementally warming up to Charlie. "Well, if it's any consolation, the Clark men have always aged very well," she continued. "Even towards the end of Dad's life, Mom once told me that 'his natural force had not yet abated'-- those were her very words. Mom was always delicate when it came to matters of sex," explained Shirley, in a hushed voice.
Embarrassed, Charlie blushed.
"Have you two set a date for the wedding?" inquired Shirley, now willing to even contemplate the marriage.
"We are thinking of next summer, when the tour is over," said Charlie.
"Then, maybe you can be a June bride," Shirley suggested. "And where are you going to live? Has Adam said anything to you about moving?" she asked, pensively.
"We've not yet discussed that," answered Charlie. "However, our family and friends are here in Twin Yucca. I don't think either of us want to leave the desert."
"Twin Yucca is an excellent place to raise a family," advised Shirley, enthusiastically. "The crime rate here is lower than in larger cities like Palm Springs. And you can't beat the weather!"
By this glowing report, Charlie understood Shirley to mean that she really didn't want her brother to move.
continued on next page...