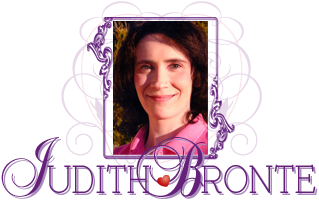 Back to Romantic Love Stories Homepage
Romantic Fiction
/
Read it for free online!

...continued from previous page

Be among the first to know
when I post new chapters, to new books!
Click Here

Keep up-to-date
on all the announcements and website news!
Subscribe today!
My policy is to follow the Golden Rule (Matthew 7:12); I hate spam too, and will never sell or give away your email address.
Charlie followed her husband to one of the guest rooms, and deposited her bags on the floor by the bed. Just then, Sandra appeared from the adjoining guest bath.
"Hi, Charlie," she greeted her. "I was just putting some clean towels out for you and Uncle Adam."
"Thank you," smiled Charlie.
"Mom will be home pretty soon," Mike was telling Adam as Charlie placed one of her suitcases on the bed to do a little unpacking. "Hospital visiting hours will be over in a few minutes, and Sandra's Dad will drive her home."
"Mike," smiled Sandra, tugging at her husband's arm and leading him out into the hallway, "let's leave them alone so they can settle in."
"Oh, okay," stammered Mike, a little confused as to why Sandra was requesting privacy for his uncle, for Adam had never required any in the past. "I'll see you downstairs in a few minutes."
"Tell Millie we'll be there in a little while," directed Adam, as Sandra dragged her bewildered husband away.
"Should I unpack all of my things?" asked Charlie, for Adam had yet to tell her how long he was intending to stay.
"You'd better," he answered. "I think we're going to be here for a while."
Trying to conceal her disappointment, Charlie took out her nightgown and placed it on the bed with some very personal articles of clothing. Without warning, Chad walked through the still open bedroom door, and sat down on the bed to watch his uncle and aunt.
"Hey, Buddy," sighed Adam, ruffling the boy's hair. "Have you been crying?"
Chad shrugged his shoulders, unwilling to confirm or deny Adam's observation.
Self-conscious that her delicate under-things were out in plain site of Adam's eleven year old nephew, Charlie quickly dropped everything into an empty bureau drawer and disappeared into the adjoining bathroom to wash up for dinner.
With a tired sigh, Charlie turned on the sink faucet and splashed some cool water onto her face, trying to unwind a little after their long flight. As she reached for a towel, the bathroom door opened slightly, and Adam peered inside. Seeing that she was decent, he left the door open and took his turn at the sink. Through the open door, Charlie saw that Chad was still sitting on their bed.
"I realize you're probably anxious to see Vera and Chuck," said Adam, washing his hands. "I don't think you've had a chance to visit them since the wedding, for we've been running all over the place."
"It's just the way things worked out," Charlie tried to reply good-naturedly, for she didn't want Adam to feel guilty for something that wasn't his fault. "I
would
like to see Grandma and Daddy, though."
"We'll go after dinner," promised Adam, turning off the water and stepping close to Charlie. He placed his dripping wet hands on the back of her blouse and smiled. "We could take one of our long walks," he whispered. Adam was about to kiss Charlie when Mike showed up unannounced in their bedroom and informed them that Shirley had arrived from the hospital. Hearing this, Chad stopped watching his uncle and aunt and quickly jumped off the bed to see his mother.
"We'll be there in a second," Adam told Mike.
"I think she wants to talk to you right now, Uncle Adam," he pressed.
"Very well, I'm coming," breathed Adam, giving Charlie a quick peck on the cheek before releasing her.
continued on next page...