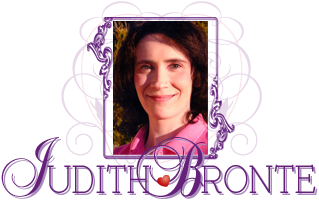 Back to Romantic Love Stories Homepage
Romantic Fiction
/
Read it for free online!

...continued from previous page

Be among the first to know
when I post new chapters, to new books!
Click Here

Keep up-to-date
on all the announcements and website news!
Subscribe today!
My policy is to follow the Golden Rule (Matthew 7:12); I hate spam too, and will never sell or give away your email address.
"Here, Wally," Charlie called out to her pet. The dog quickly came running, and was rewarded with a small scrap of food.
"Charlie," sighed Adam, "that dog will never learn anything if you keep spoiling her!"
"I'm
not
," protested Charlie, "I'm just showing her I care."
"I think she already knows that by now," chuckled Adam. "Have it your way, Charlie-girl, but we're not raising our baby the way you're raising that dog."
"Adam, I think know the difference between animals and children!" laughed Charlie.
Just then, Wally returned to beg at Adam's feet. He looked down at the cute animal and it barked expectantly.
"Yap all you want," Adam told her, "but you're not going to get anything from
me
." Unable to completely resist Wally, Adam petted the golden retriever until she rolled onto her back so he could scratch her tummy.
Sneaking a look below the table, Charlie saw what Adam was doing. "You're a big softie!" she smiled at her husband.
By the first of November, Adam had his compositions polished and ready for the recording studio. The record label that was producing his new album, hired a studio in Los Angeles and Adam took Dave with him to get things set up and ready for the work that lay ahead.
Charlie was nervous about the prospect of playing on Adam's new album, and wasn't too eager to step inside the recording studio before she absolutely had to. After being assured that it would probably take several days before he was even ready to get to their duet, Charlie breathed a sigh of relief and procrastinated her dread for a later time. The morning sickness was coming in regular volleys now, and she spent a good deal of her day practicing at the piano, and napping in bed after losing her meal.
The first few days of Adam's commute into Los Angeles gave Charlie some concern that he wouldn't be able to maintain such a grueling routine. Adam would leave their bed while it was still dark outside, and eat breakfast and read his Bible by himself in the kitchen. Then he joined Dave and a bodyguard and they would make the long drive into LA.
Adam returned late at night, after everyone had already gone to bed and Villa Rosa was quiet. Even though he tried to slip into the master bedroom without awakening Charlie, he usually found that his caution was unnecessary. More often than not, Charlie had succeeded in staying awake and was there to welcome him home.
After finding her awake for the third night in a row, Adam tried to talk her out of this practice. "You don't need to wait up for me," he apologized, as he climbed into bed beside Charlie. "I don't want to keep you up this late."
Charlie snuggled into his arms. "If I don't, I'll never get to see you."
"This won't be forever," he consoled. "It'll only be until the album is finished."
"Have you got a name for it yet?" wondered Charlie, her voice gradually drifting off into sleep.
"I sure do," yawned Adam. "I'm titling the album 'Unification.'"
continued on next page...